This was my old couch (sofa?). We got it for free and covered it with a slipcover that never stayed in quite the right place and also had a hole in it and a superglue stain.
For my birthday, we got a new couch. We went couch shopping once, and we shopped for this couch that fit our space perfectly and I got to pick out this nice gray/beige fabric that would have gone with anything in the world and even cool matching throw pillows. The couch was over $1,000–not a bad price, but we didn't want to spend that much money right now.
So instead, we went to the RC Willey website and got this couch for half as much:
To be completely honest, it's not my ultimate couch. My ultimate couch would come from Restoration Hardware. Like this: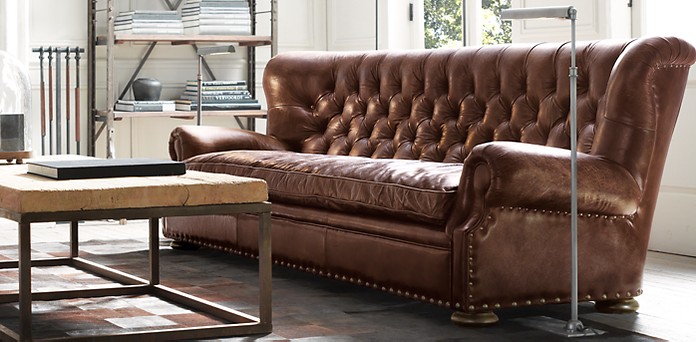 But that couch costs over $3,000, so it's not really an option. I decided the other day that there were more important things in life than spending $3,000 on a couch.
The couch we ended up with is bonded leather, which seemed most practical in this time of our life. Little kids are not always nice to furniture.
It works for now, even if it isn't my ultimate couch. It is so nice to have something larger in the living room so we can lounge about. Taking naps on the couch is so much nicer.
Before:
After:
While I was getting a new couch, I rearranged my two hallway bedrooms. I moved MM's crib out of this room and moved our old couch into it. This is now our guest room, and will be BB's room when he is no longer sleeping in our bedroom:
And so this is MM's room now. It works better, particularly when we have guests over (come visit me!) because I don't have to move anything around to accomadate them. They can sleep on the tiny loveseat in the spare room. (Just kidding, you get to sleep on the floor.) (With an air mattress.)